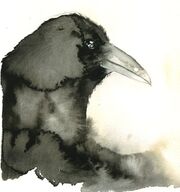 Corbae
— Creatures
This page is a stub. Please help expand the usefulness of the Charles de Lint's Newford Wiki by expanding it!
Corbae are a subset of "Animal People".
Books / Stories Appear In
Edit
The Corbae are all birds—the term Corbae refers to those whose animal skin is one of the birds of the Corvidae family: crows, ravens, jays, rooks, jackdaws, and magpies,
Characteristics
Edit
Their natures are typical to their avian "little cousins," being generally playful and tending toward strong organization within community groups. They breed cooperatively, with "helper" adults helping in the raising of nestlings. Crows use of social learning within their culture, which allows them to pass down learned information from one generation to the next.
History / Background
Edit
Corbae Characters
Edit
Rookery Residents

| Name | What | About |
| --- | --- | --- |
| Crow Girls | Maida and Zia | claim to live in the elm tree in the backyard, and it is more than likely true |
| Lucius Portsmouth, Raven | one of the first of the First People | lives in the third floor apartment along with Chloë Graine. |
| Chloë Graine | leader in Raven's place | lives in the third floor apartment along with Raven |
| Rory Crowther | writer and jeweller | rents the first-floor apartment. |
| Annabel Blue, "Annie" | jay Corbae, and a punk-folksinger | rents one of the second-floor apartments, and runs Uneasy Records out of said apartment. |
| Brandon Cole | Corbae, young black man, tall and handsome. He is a saxophone player | rents the upper of the two small apartments in the carriage house in the backyard |
| The Aunts | Corbae, two elderly sisters, gardeners and water-colorists | rents the bottom half of the carriage house |
| Kerry Madan | | moves in beginning of Someplace to Be Flying. |
| | | |
| | | |
To expand the table, right-press on a row of the table or (Control-press on a Mac)—choose add
Events in the Series (spoilery area)
Edit
External Links
Edit